SUPER CLEAN finishing
Super clean finishing prevents against odors and stains

Anti-crack bag
Anti-crack bag protects the bottle bottom from impact.The bag is also washable. Perfect for children's outdoor activities.
2-Way Bottle - Direct and Cup
Two bottle caps available for hot and cold drinks.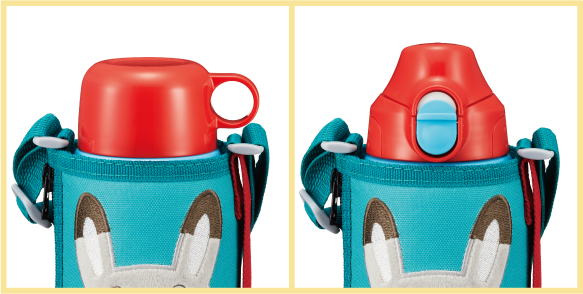 About "colobockle"
Tachimoto Michiko (立本倫子) was born in 1976 in Ishikawa, Japan. She graduated from Osaka University of Arts and took the role as a Visiting Associate Professor at Osaka University of Arts. Presided over a multimedia plan for children "colobockle".
Model No.
MBR-B06G
Pattern
Piggy (YP), Bunny (AR)
Inner Materials
304 Stainless Steel
Capacity
0.6L
Heat Retention (6 hours)
73°C or above (cup style)
To avoid children from getting major or minor burns, too hot beverages are not recommended.
Cold Retention (6 hours)
8℃ or below
Thermal Bottle Dimensions (cm)
Cup style: 8.4×9.5×19.3; Direct-drinking style: 8.4×9.5×20.6
Thermal Bottle Weight (kg)
Cup style: 0.39; Direct-drinking style: 0.38
Mouth Width (cm)
4.1
Accessories
cup, direct-drinking cap, detachable bottle sleeve
Remarks
If using direct-drinking cap, beverages with temperature higher than 40°C are not recommended.
Thermal Bottle Dimensions: width x depth x height