To fulfill your needs
This is a light and durable handy jug. The vacuum structure performs the excellent thermal insulation. Keep your cold drinks in summer; Keep your hot drinks in winter. A handy jug perfect for all seasons.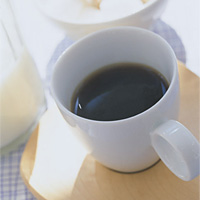 Easy for cleaning
7.5cm wide mouth makes cleaning easier.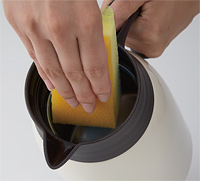 Easy-to-use push lever
Open the jug in one push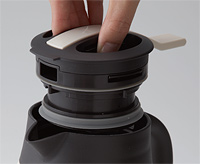 SUPER CLEAN finishing
SUPER CLEAN finishing process prevents the bottle against odors and stains.

Model No.
PWM-B120
PWM-B160
PWM-B200
Colour
Ivory White (CA), Brown (TV)
Inner Materials
304 Stainless Steel
Capacity
1.2
1.6
2.0
Heat Retention (10 hours/24 hours)
67℃ or above / 48℃ or above
72℃ or above / 54℃ or above
75℃ or above / 59℃ or above
Handy Jug Dimensions (cm)
12.7x16.3x20.0
12.7x16.3x23.8
12.7x16.3x27.5
Handy Jug Weight (kg)
0.61
0.69
0.76
Handy Jug Dimensions: width x depth x height