Direct or Cup 2way Style
Comes with 2 covers for hot or cold drinks.
Washable body
Laser welding bottom prevents water infiltration.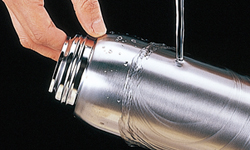 Durable bottom carry bag
Durable bag for outdoor use, protect your bottle from impact.
Can be cleaned by washing machine.
Light bottle
Leaser welded bottom makes a lighter bottle
Model No.
MBO-E050
MBO-E080
MBO-E100
Colour
Pink (P), Blue (A)
Black (K), Blue Flower (A)
Inner Materials
304 Stainless Steel
Capacity
0.5L
0.8L
1.0L
Heat Retention (6 hours)
73°C or above (cup style)
77°C or above (cup style)
79°C or above (cup style)
To avoid children from getting major or minor burns, too hot beverages are not recommended.
Cold Retention (6 hours)
8℃ or below
Thermal Bottle Dimensions (cm)
(direct) 6.9×8.7×21.5;
(cup) 6.9x7.7x22.6
(direct) 8.4×9.5×23.8;
(cup) 8.4x9.5x25.0
(direct) 8.4×9.5×28.2;
(cup) 8.4x9.5x29.5
Thermal Bottle Weight (kg)
0.33
0.46
0.52
Remarks
If using direct-drinking cap, beverages with temperature higher than 40°C are not recommended.
Thermal Bottle Dimensions: width x depth x height