Recipe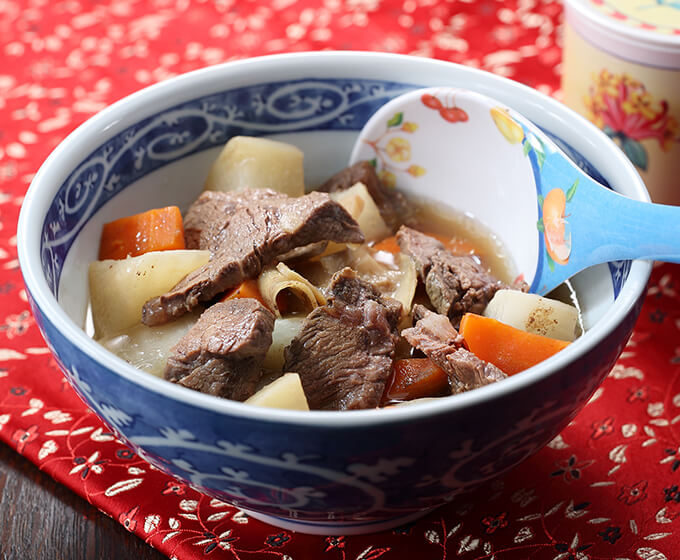 Beef Stew with Radish
169 kcal per serving
Ingredients
[The amount shown in the picture is for 1.8L( 10cup) type.]
1. Beef tendon ………… 250g
2. Radish ………… 375g
3. Carrot ………… 60g
4. Ginger ………… 15g
5. Bay leaf ………… 2 slices
6. Chicken stock ………… 150mL
Condiments( 7.~9.)
7. Soy sauce ………… 1/2 tablespoon
8. Sugar ………… 1/4 tablespoon
9. Salt ………… 1/4 tablespoon
1. Beef tendon ………… 500g
2. Radish ………… 750g
3. Carrot ………… 120g
4. Ginger ………… 30g
5. Bay leaf ………… 4 slices
6. Chicken stock ………… 300mL
Condiments( 7.~9.)
7. Soy sauce ………… 1 tablespoon
8. Sugar ………… 1/2 tablespoon
9. Salt ………… 1/2 tablespoon
How to make
Load a big pot with water and beef tendons, boil the beef and remove the blood froth.
After boiling, dry the beef by dripping water.
Cut the beef after it cools down.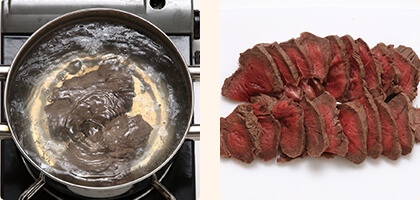 Cut the carrot and radish.
Slice the ginger.
Put 2 into the inner pot, place 3 onto it and add the chicken stock, condiments, and bay leaf.
Select the "調理 ∙ 蒸煮 / Slow Cook" menu, set the heating time to 90 minutes
and press the [炊飯 / Start] key.
When cooking is complete, place the dish on a serving plate.