Recipe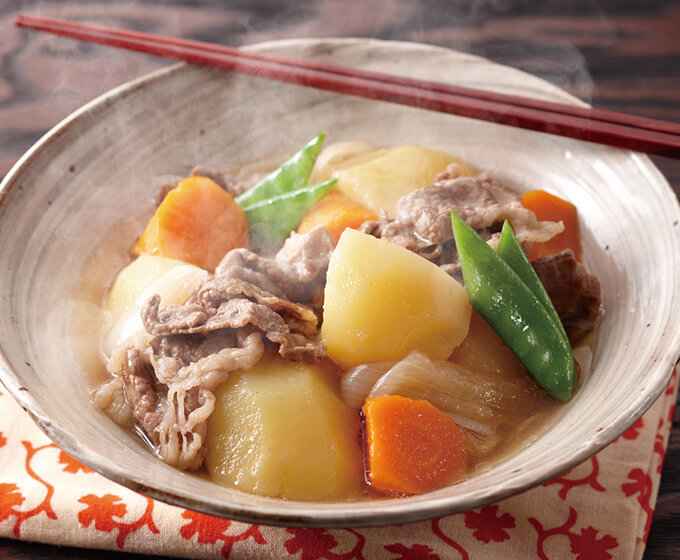 Nikujaga( Simmered Meat and Potatoes)
336 kcal per serving
Ingredients
[The amount shown in the picture is for 1.8L( 10cup) type.]
1. Beef ………… 150g
2. Potato ………… 375g
3. Onion ………… 190g
4. Carrot ………… 40g
5. Snow peas ………… 9
6. Vegetable oil ………… 3/4 tablespoon
7. Dashi(Japanese soup stock) ………… 300mL
Condiments (8.~11.)
8. Soy sauce ………… 2-1/4 tablespoons
9. Sugar ………… 1-1/2 tablespoons
10. Mirin ………… 1-1/2 tablespoons
11. Sake(rice wine) ………… 3/4 tablespoon
1. Beef ………… 300g
2. Potato ………… 750g
3. Onion ………… 380g
4. Carrot ………… 75g
5. Snow peas ………… 18
6. Vegetable oil ………… 1-1/2 tablespoons
7. Dashi(Japanese soup stock) ………… 600mL
Condiments (8.~11.)
8. Soy sauce ………… 4-1/2 tablespoons
9. Sugar ………… 3 tablespoons
10. Mirin ………… 3 tablespoons
11. Sake(rice wine) ………… 1-1/2 tablespoons
How to make
Slice the beef thinly into bite-sized pieces.
Cut the potato and carrot into bite-sized pieces.
Cut the onion into 8 wedges.
String the snow peas and slice them into bite-sized pieces.
Heat the vegetable oil in a frying pan and sauté the beef over medium heat.
When the beef is browned, add and sauté the onion, carrot, and potato.
Place cooker ingredients into the inner pot, mix, and add the dashi and condiments.
Select the "調理 ∙ 蒸煮 / Slow Cook" menu, set the heating time to 60 minutes,
and press the [炊飯 / Start] key.
When cooking is complete, add the snow peas, close the lid, and wait for 3 minutes.
One cooking is complete, place the dish on a serving plate.