Recipe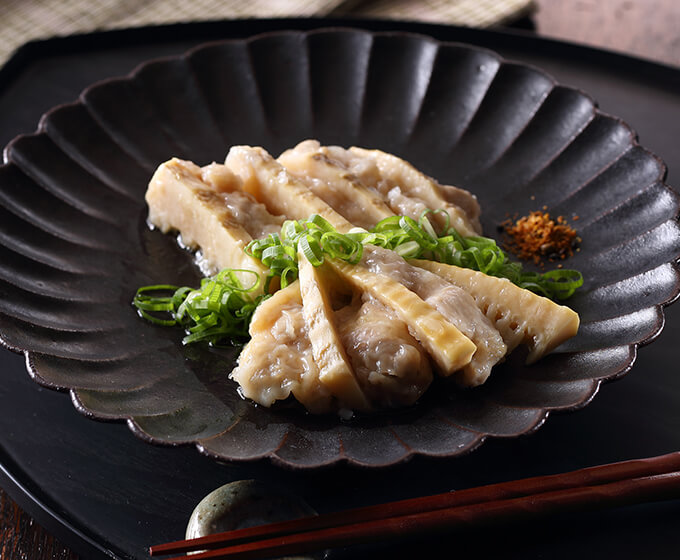 Steamed Chicken and Bamboo Shoot
162 kcal per serving
Ingredients
[The amount shown in the picture is for 1.8L( 10cup) type.]
1. Chicken thigh ………… 120g
2. Bamboo shoot(boiled) ………… 60g
3. Starch ………… As needed
Marinade (4.~7.)
4. Soy sauce ………… 3/4 tablespoon
5. Mirin ………… 1/2 tablespoon
6. Sake(rice wine) ………… 1/2 tablespoon
7. Sugar ………… 3/4 teaspoon
8. Green onion ………… As needed
9. Shichimi(seven-flavor chili pepper) ………… As needed
1. Chicken thigh ………… 240g
2. Bamboo shoot(boiled) ………… 120g
3. Starch ………… As needed
Marinade (4.~7.)
4. Soy sauce ………… 1-1/2 tablespoons
5. Mirin ………… 1 tablespoon
6. Sake(rice wine) ………… 1 tablespoon
7. Sugar ………… 1-1/2 teaspoons
8. Green onion ………… As needed
9. Shichimi(seven-flavor chili pepper) ………… As needed
How to make
Slice the chicken into 6cm × 1cm pieces.
Slice the bamboo shoots along the fibers into 6cm × 0.5cm pieces.
Soak 1 in the marinade and refrigerate it for at least 15 minutes.
Drain and remove excess marinade and coat with starch.
Stack the healthy cooking plate on the cooking plate and layer the chicken and
bamboo shoots from 3 alternately.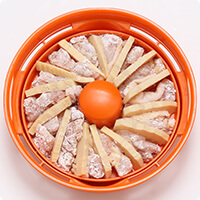 Put the washed rice and water in the inner pot,
and then put it in the rice cooker.
Insert 4 in the inner pot,
select the "同時烹煮 / Synchro-Cooking" menu,
and press the [炊飯 / Start] key.
When cooking is complete,
place the dish on a serving plate and sprinkle chopped green onions.
Serve the dish with shichimi on the side, as desired.