Recipe
Taiwanese Oyster Rice
326 kcal per serving
Ingredients
[The amount shown in the picture is for 1.8L( 10cup) type.]
1. Rice ………… 2cups
2. Oyster ………… 100g
3. Corn starch ………… 1 tablespoon
4. Salt ………… A dash
5. White pepper ………… A dash
6. Dried shiitake mushroom ………… 7.5g
7. Ginger ………… 10g
8. Vegetable oil ………… As needed
9. Chicken stock ………… 400mL
Condiments( 10.~12.)
10. Soy sauce ………… 2/3 tablespoon
11. Shaoxing rice wine ………… 2/3 tablespoon
12. Sugar ………… 2/3 teaspoon
13. Green onion ………… For garnish
1. Rice ………… 3cups
2. Oyster ………… 150g
3. Corn starch ………… 1-1/2 tablespoons
4. Salt ………… A dash
5. White pepper ………… A dash
6. Dried shiitake mushroom ………… 10g
7. Ginger ………… 15g
8. Vegetable oil ………… As needed
9. Chicken stock ………… 600mL
Condiments( 10.~12.)
10. Soy sauce ………… 1 tablespoon
11. Shaoxing rice wine ………… 1 tablespoon
12. Sugar ………… 1 teaspoon
13. Green onion ………… For garnish
How to make
Soak the dried shiitake mushrooms in water
until they are soft.
Shred the shiitake mushrooms and ginger.
Place the oysters, corn starch, and a little bit of water in a bowl and mix.
Rinse the oysters under water, drain, and sprinkle with salt and white pepper.
Heat the vegetable oil in a frying pan, add 2, and sauté until fragrant.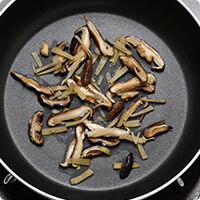 Wash the rice in the inner pot and drain the water.
Add the condiments and the chicken stock up to
level 3 of "白米 / Plain" in the inner pot
(level 2 for the 5.5-cup Cooker).
If the chicken stock does not reach level 3,
add some water.
Mix well and then add 3 and 4.
Select the "什錦飯 / Mixed" menu and press the [炊飯 / Start] key.
When cooking is complete, mix gently and place
the dish on a serving plate.
Sprinkle the dish with the chopped green onions.